Wettkampfmodus
"Du bist so klein, dass es schon lustig ist!"
Dieser Artikel ist ein sogenannter Stub. Er ist daher nicht vollständig. Du kannst das Team Fortress Wiki unterstützen indem du ihn erweiterst.

"Wow, guck dir das mal an!"


Diese Seite enthält Material, das sich noch in der Mann Co.-Beta-Testphase befindet.




Deshalb könnten sich die Inhalte noch ändern.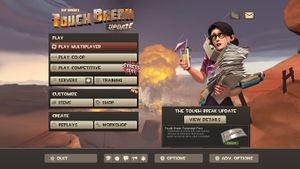 Wettkampfmodus ist der neuste offizielle Spielmodus, der in TF2 veröffentlicht werden soll. Er befindet sich momentan in der Beta, aber vieles folgt bereits den Richtlinien, welche schon im wettbewerbsmäßigen Spiel genutzt werden. Dies wird sich nach weiterem Fortschritt und Rückmeldung der Community noch weiterentwickeln.
Zugang zur Beta erhält man durch einen dieser beiden Wege:
Wenn der Spieler diese Anforderungen nicht erfüllt, hat er immer noch die Möglichkeit, Zugang zur Beta durch geplante Stresstests" zu erhalten.
Gameplay
Der Wettbewerbsmodus soll eine präzisierte Version des "normalen" Mehrspielermodus darstellen, allerdings mit weniger chaotischen Zufallsfaktoren als in öffentlichen Spielen.
Unterschiede zum normalen Mehrspieler
Dieser Spielmodus bietet ein rundenbasiertes Match-System mit alternativen Ankündigungssätzen, einen interaktiven "Gewinnerkreis" (Bis jetzt noch kein offizieller Name), und bietet weniger Spielmodi als normale Mehrspielerlobbys. Daher weist dieser Modus aber auch ein exklusiveres und wahrlich "Können-basiertes Spielerlebnis", in welchem es sich viel mehr um die beste Strategie, Positionierung und Teamkommunikation dreht.
Die momentan verfügbaren Spielmodi sind "Kontrollpunkte" und "King of the Hill". Die Anzahl der momentanen Karten ist noch stark limitiert, aber im Laufe des Entwicklungsprozesses werden weitere angekündigt.
Der Spielmodus unterstützt im Moment: 6v6.